Hospital Beds are twin size beds with a sleep surface of roughly 35" x 80". Hospital Beds are not available in Queen and King sizes but if you need extra length, extensions are available for several models. Hospital Beds generally come with a weight capacity of 450lbs. Bariatric Hospital Beds are also available for patients who require larger weight capacities and wider sleep surface.
Hospital beds are shipped unassembled, but the 4 main pieces can easily be connected without tools. The foot section weighs about 75 lbs but the rest parts are fairly light. The mattress and bed rails may or may not be included with the bed. If you need to buy a mattress, you can choose from standard coil springs, foam, and air mattresses.
Type of Hospital Beds
Hospital Beds are of 4 types:
Full-Electric Hospital Beds
The Full-Electric Beds offer the greatest convenience for the patient and caregiver. The hand pendant controls provide motorized positioning of the head and feet, and also adjustable bed frame height for efficient use of accessories and for safe and easy transfer in and out of the bed.
Semi-Electric Hospital Beds
Semi-Electric Hospital Beds provide motorized positioning of the head and feet. But the bed height is adjusted by using a manual crank. Semi-Electric Hospital Beds are a good option if you are on a tight budget.
Manual Hospital Beds
Manual Hospital Beds have a manual crank adjustment for head and feet as well as for bed height. Manual Hospital Beds are the most economical option and are a great choice if you don't mind the extra work.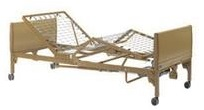 Homecare Adjustable Beds
Homecare Adjustable Beds are designed to look like normal beds. They come in twin, full, queen and king sizes. Homecare Adjustable Beds are the best choice if you don't like the look of a standard hospital bed.
Hospital Bed Accessories
Hospital Bed Accessories make day-to-day activities much easier for the patient as well as the caregiver. Accessories include therapeutic mattress systems & overlays, bed wedges, overbed tables, bed rails, trapeze, blanket lift bars, pillow cases, bedsheets, bedside cup holders, trays, bed pads and more.
Disclaimer: All content found on our website, including images, videos, infographics and text were created solely for informational purposes. Our content should never be used for the purpose of diagnosis or treatment of any medical conditions. Content shared on our websites is not meant to be used as a substitute for advice from a certified medical professional. Reliance on the information provided on our website as a basis for patient treatment is solely at your own risk. We urge all our customers to always consult a physician or a certified medical professional before trying or using a new medical product.